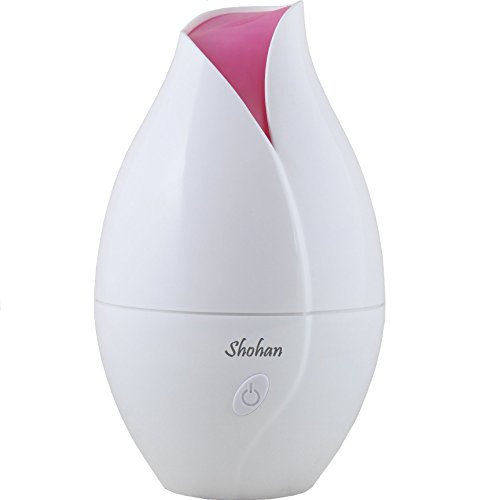 1. Vicks 1.0 GallonHumidifier
Vicks is a trusted name is cold and flu medicine so it only makes sense thatparents reach for the Vicks humidifiers to treat their family's cold and flu symptoms as well. With a 1.0 gallon reservoir, there is enough water for 18 hours of running time. It operates very quietly which is a bonus if you're planning on using it in a nursery or child's room and can be washed in the dishwasher. The self-regulating evaporative system adjusts the output to the amount of moisture the air can hold at a particular temperature. The three-year warranty is a feature that will give you peace of mind should anything happen to it.
Pros:
* Dishwasher safe
* Quiet operation
* Multi-year warranty
Cons:
* Does need to be refilled once a day
* Some users have reported wanting something with more colour options
* Not ideal for very large rooms
* Filter replacement requires additional costs
2. Honeywell Germ Free Cool Mist Humidifier, HCM-350
This is the perfect humidifier for all you germaphobes out there! Patented germ-killing chamber technology ensures that 99.9% all bacteria, mold, and spores in the water are killed off. Tank is easy to fill, carry, dishwasher safe and operates 24 hours on one fill. However it is important to note that replacement filters are expensive and it has been reported that it's prone to sucking in dust which makes cleaning a daily task.
Pros:
* Antimicrobial treated filter
* Dishwasher safe
* Quiet operation
* Self-regulating evaporator
Cons:
* Small room rating only
* Somewhat bulky
* Replacement filters are expensive
* Prone to sucking in dust
3. Bionaire Cool Mist Tower Humidifier
Tall design is perfect for those with limited floor space; though this also makes it prone to tipping over more than other humidifiers. It's designed to be quiet enough to use in a bedroom, and the LCD display makes it easy to figure out what's going on with the unit in the middle of the night. Dishwasher safe parts makes cleaning easy and runs for 36 hours on one fill.
Pros:
* LCD display
* Dishwasher safe
* Space saving design
* Can run for 36 hours on one tank
Cons:
* When unplugged, saved setting are reset to default settings
* Prone to tipping over
* Humidity sensor has been reported to fail over time
4. Crane Drop Shape Ultrasonic Cool Mist Humidifier
The biggest selling point is the variety of color. These bright colors make this a nice choice for a kid's room, or for any room where you want the humidifier to blend in with the décor. The compact design, does not require a filter, runs24 hours between fill-ups and has 360 degree output nozzle. However it only comes with a one year warranty.
Pros:
* Compact design
* Comes in 7 colours
* Does not require a filter
* 360 degree output nozzle
Cons:
* Limited to one year warranty
* Not ideal for larger rooms
* Some users have reported leaks over time
5. Air-O-Swiss AOS 7147Humidifier
This humidifier can humidify the air in rooms up to 600 square feet. A 1.5 gallon tank means it has a running time of 24 hours between fills and comes with timer so you can set how long you want it to run for and the shut off time. Self-regulatory system automatically monitors output and can produce both warm and cool mists.
Pros:
* Automatically regulars output
* Timer to set running and shut off time
* Produces both cool and warm mists
Cons:
* Expensive
* Bulky
* Requires additional accessories